Check out all the perks and features of the VOLT-In LMS!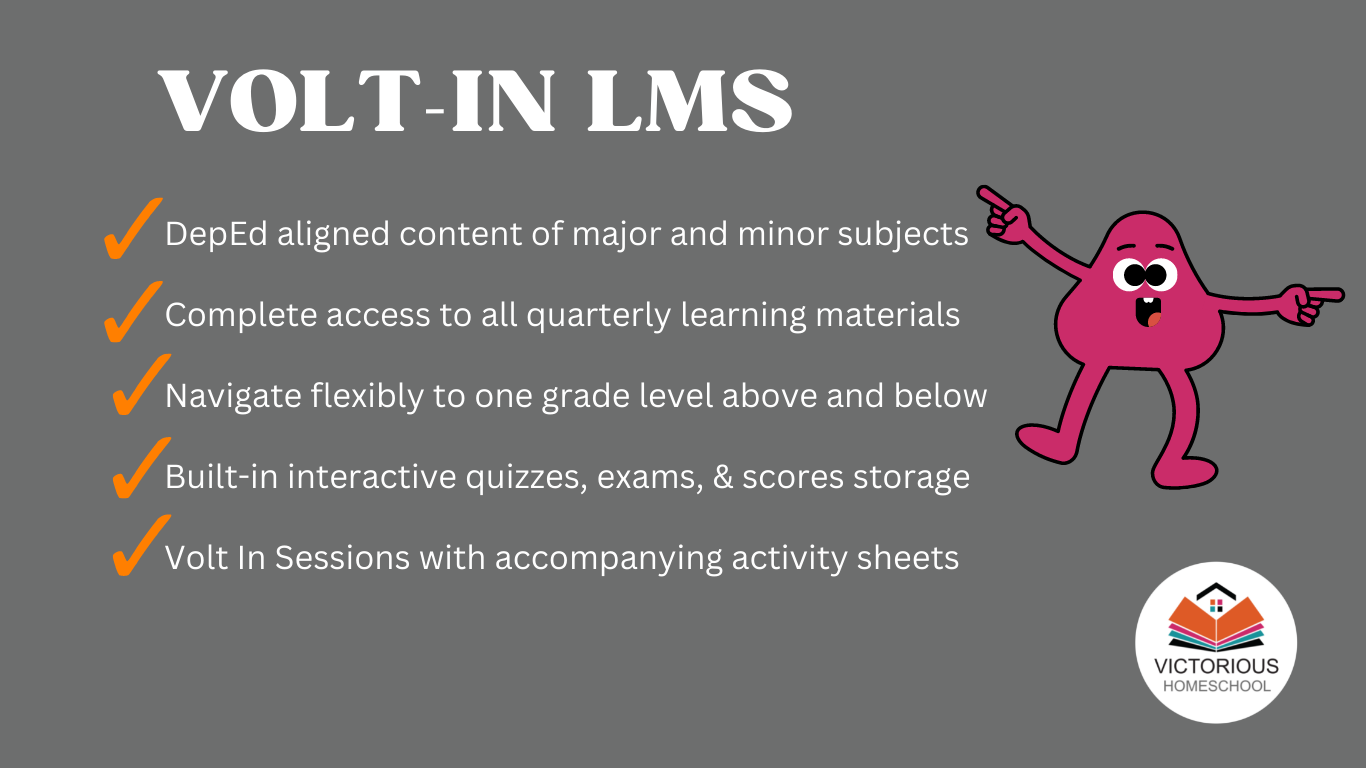 DepEd aligned content of major and minor subjects
We did say ALL the subjects, right? For many parents adapting the open-curriculum or eclectic approach, looking for specific resources can be time-consuming. With the VOLT-In LMS, all the lesson content are available to you, including the minor subjects.
Complete access to all quarterly learning materials
Since you are homeschooling, you would want ALL the resources accessible to you. With the VOLT-In LMS, you will have access to all the lessons for the school year. This translates to having more control in the selecting and planning of your lessons.
Navigate flexibly to one grade level above and below
You always hear the statement, "Meet your children where they are." This can refer to so many aspects, but more so in academics. What is amazing about the VOLT-In LMS is that you can have access to the whole lesson content one grade level below and one grade level above of your child's enrolled level. For example, if your child is in Grade 3, you can have access to Grade 2 and Grade 4 lesson contents for the whole school year. That is three levels for the price of one!
Built-in interactive quizzes, exams, & scores storage
As parent-teachers, you are the sole provider of your child's grades. VOLT-In LMS provides so much convenience by making available interactive quizzes and assessments for the lessons. The platform also automatically stores the scores of your child, so you don't worry about forgetting them before you transfer scores to the Fillable Grading Form.
Volt In Sessions with accompanying activity sheets
And you will no longer despair if you missed important Volt in Sessions. You will be able to watch many of the workshop presentations and access the accompanying worksheets and activity sheets because we will include them in the VOLT In-LMS!
VOLT-IN LEARNING MANAGEMENT SYSTEM